Waco Car Insurance
We've got the Waco Car Insurance you're looking for at a price you can actually afford. If you've got 5 minutes, get a
Waco Car Insurance Quote
to save some money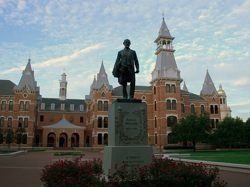 Finding car insurance in Waco can be an intimidating task and it's important to choose the right company that's going to suit your needs the best.
We're a Texas Company That Insures Texans
You have probably seen our competitors' ads on television and might think they offer the lowest rates on Waco car insurance. The truth is, they have a huge marketing budget and that money has to come from somewhere, right?
We're a company owned and operated by Texans and solely provide insurance to our fellow Texans. We've been in business for nearly 40 years and pride ourselves on providing quality insurance at competitive rates.
Buy Direct and Save Money
When you purchase insurance from an insurance agent, you might not get the lowest rate possible. This is because an insurance agent has the overhead of an office and the staff to run their business. Sure, we have the staff and an office but we sell our own insurance and at a greater volume. This all adds up to savings for you and your family.
Our insurance is as good or better than the next company's and comes with friendly, Texan customer service and an in-house claims department that's fast and efficient in handling claims. This means your claims are paid quickly.
Waco Car Insurance Quotes
Our automated online quote system is state-of-the-art and will provide you with a personalized quote in as little as 5 minutes. If you happen to have a question while going through the quote process, we're here for you. You can click the 'Chat with Us Online' link at the top of the page and we'll assist you in any questions or concerns you may have.
At the end of the day, insurance is insurance. By choosing Spartan Insurance, you're doing business with a neighbor who knows that Texans are proud of their independence.
---
Related Entries